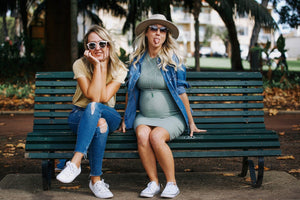 Co-Founder
Amy Miller
Before co-founding Little Shop of Happiness, I worked in sales and marketing for a variety of different industries—everything from a tech start-up, to a hearing aid manufacturer, to a company making surgical tools for gynaecologists (yep... really!).
These days, I handle most of the dispatch and customer communication for our business. I'm also the person who handwrites the special messages that get sent out with your orders!
Originally from England, I moved to Melbourne with my now-husband, Paul, where we spent nine years enjoying the city's food and culture. In 2015, we relocated to Perth. We're now parents to two incredible kids, Evan (our toddler) and Sia (our baby) who are the loves of our lives.
A lover of all things health and wellness, you can usually find me with a glass of green juice in one hand and a glass of red wine in the other. As a typical Pisces girl, my head is always swirling with creative thoughts; whether it's ideas for business, books, movies, or travel plans. All of these ideas get written down in a notebook by my bed, along with a list of all the funny things my son has said during the day.
I try to surround myself with positive people that I can learn from, and I love that Little Shop of Happiness makes that possible for me every day. I'm grateful that I get to be a part of something that makes other people feel good, and I couldn't be prouder of what Liza and I have achieved together!        
Co-Founder
Liza Paterson
On top of being a business owner and mum, I also work with 3-year-olds as an early childhood educator. I've always had a passion for colour and making things (sorry for all of the messes, mum!). Fortunately, my passion for creating eventually led to a diploma in graphic design. I think the colourful, happy vibes of our business suit my personality perfectly.
When I'm not busy teaching or dreaming up new business ideas, I'm the person who orders our stock and who lovingly wraps each of your gift boxes.
Originally from Scotland, I left in 2006 to travel Australia with my high school sweetheart, Shaun, and some friends (including Paul who is now Amy's husband!). After a brief return to Scotland, Shaun and I moved to Perth permanently in 2010. We are now married and have 3 beautiful kids together: Oliver, Grace and Charlie. Our family also includes a cute Cavoodle pup named Rosie.
Some of my passions outside of work include listening to podcasts, going to the beach for a paddle in the ocean, or planning my next adventure. I enjoy nature, meditation, yoga, walking, and (not that I get a chance to do it here much) skiing. While I love the smell of coffee, I prefer a good celery juice in the morning. It makes me feel incredible and is a great way to start the day!
hrough my work with Little Shop of Happiness, I hope to inspire my kids to find what makes them happy from a young age and then dream big. I love teaching them about gratitude and do my best to model it for them. I count my blessings every day that I'm living the life of my dreams!
Hello Sunshine
Want to live the life of YOUR dreams? Check out our blog for more happiness-themed inspiration, tips, and stories.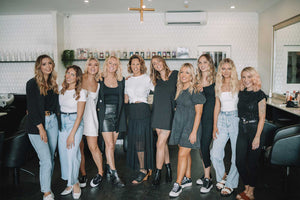 Join Us to Spread Happiness
Join our cause to put that "SMILE" to as many faces as we can!