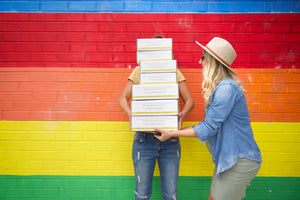 Do Something Kind Today:
Helping you spread joy through beautiful, unique gift boxes delivered anywhere in Australia.
How it Started
One night after a bottle of wine (or 2), we booked a trip to the beautiful island of Rottnest and it was there in November 2015 that the Little Shop of Happiness was born. We talked about how great it would be to send a box of happiness right to someone's door when they were in need of a little boost.
We felt that gifts like flowers and chocolates didn't express gratitude and comfort as well as a more unique gift experience could. We wanted to create a better alternative that made the recipient feel truly special and cared for.
Since then, we're proud to have built a small business that's brought smiles to the faces of thousands of Australians. In just a couple of clicks, you can now have a creative, heartfelt gift delivered anywhere in the country via free express shipping.
We've partnered with small, local businesses to create hampers that include just the right balance of indulgent treats, self-care products, beautiful keepsakes and positive messaging. We take pride in making sure that every box is lovingly gift-wrapped and delivered with a personalized, handwritten note. It's as close as you can get to mailing a hug in a box.
"I love the originality of the content, but it's the thought behind it that brings so much joy."-Leanne R., Customer
We're so grateful that Little Shop of Happiness lets us help people feel good through thoughtful gifting. Every day of our journey has been an opportunity for creativity, learning, and the good fortune of providing for our families while living out our dreams. Best of all, we love that we can be positive role models for our children, who have been able to watch their mums grow a business from scratch.
As a company, we strongly believe in giving as much as you can, when you can. We frequently offer our boxes to raise money for charities, or even just give our boxes to people that are in extra need of some happiness. We both love knowing that we might be able to help someone, even if only a little bit.
We hope you can join us on our mission to spread happiness. Whether it's for yourself, a loved one, or a stranger­­—we encourage you:do something kind today. XO,Liza and Amy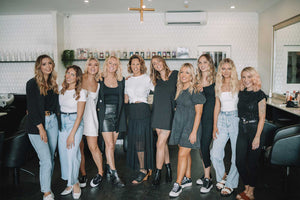 Join Us to Spread Happiness
Join our cause to put that "SMILE" to as many faces as we can!