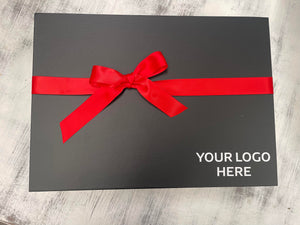 Corporate Gifts
We would LOVE to help you create branded corporate hampers that stand out from the crowd! Think hampers that WOW, and gifts that suit your brand and gifting purpose when you think of gifts from Little Shop of Happiness!
Branded Corporate Gifts
Easily add your company branding to one of our ready-made gift options or build your own gift gift box!
Christmas & End of Year Gifting
Celebrate and reward your clients and team with the perfect end of year gift to show you care. Enjoy custom branding or personalised packaging options. Shop a Little Shop of Happiness for a fun and colourful surprise for your team or clients.
Promotional Gifting
Personalise stunning corporate gift hampers quickly and easily with help from our design team. Your hamper will contain a one-of-a-kind assortment of premium gifts presented in fully customised packaging. Branding options are available to showcase your unique brand personality and message. We promise to be your go-to for gifting!
Enquire about Corporate Gifts
Get in touch we would love to help you hear how we can help you with your next corporate gifting or hamper project! Fill out the form below and will be touch right. Can't wait and want to talk to us right now call 1300 139 165
Corporate Christmas Gifts
Christmas 2021 is fast approaching and we are already taking orders
Sending a Christmas Gift Box is the perfect way to express the gratitude you feel for your employees and clients.  
We can help you express your appreciation with a meaningful gift, that the recipient with remember for years to come. 
Send us an enquiry with your gift box requirements and let us help you brighten up your employees year with one of our bright and happy corporate gift boxes this festive season. We will work with you to make something that suits your brand perfectly. 
How we work..
1. Consultation: Tell us what you are looking for;  your budget and how many gifts you need. 
2. Proposal: We'll design the perfect gift box to bring your vision to life.
3. Fulfilment: We will pack your beautiful gift boxes.
4. Delivery: We can deliver your gift boxes anywhere in AUSTRALIA.
5. Surprise & Delight: Your recipients will be wowed and you get to take the credit for being so thoughtful.
Testimonials
Ikea-Perth
"I just wanted to say a huge thank you to Amy & Liza for our amazing Little Boxes of Happiness. It was the perfect Christmas gift for our 230 social club members and their faces lit up when they received their box. The Girls were able to create both a male and female box to make sure that we had something for everyone. I wouldn't hesitate to recommend this as the perfect gift for your staff".
Thinkerbell- Melbourne 
We had the most amazing experience using Little Shop of Happiness to arrange a huge project for our client Old El Paso. Little Shop of Happiness created over 50 amazing 100% Old El Paso branded gift hampers that literally took instagram by storm. They were so beautiful!
Working with Little Shop of Happiness was a breeze, the project took so many twists and turns and there was never ever a problem. All our hampers were delivered on time and most importantly on budget! Liza and Amy went above and beyond every step of the way, their consistent effort and thoughtfulness made us feel like we were such valued and important customers. 
I highly recommend Little Shop of Happiness - no matter what gift ideas you have, I'm 100% confident that the girls can make your wildest ideas a reality! 
- Taylah Mclean, Producer at Thinkerbell
Tina Campbell (Head of Boarding at St Mary's Anglican Girls' school, Karrinyup PERTH)
"I have given my new boarders at St Mary's a 'little box of happiness' to welcome them to our boarding family at the start of the school year for the past two years.
The quality of the gifts and the service has always been exceptional and I shall continue to use them into the future. The boxes are happy, bright, bold and bring a smile to the faces of the girls unwrapping them as they bravely start their boarding journey living away from home for the very first time. They are exactly what I need them to be, a dose of happiness and positivity. Thank You!